4th RICS-NAVS conference 18th October 2022
We are pleased to announce that Royal Institution of Chartered Surveyors – RICS and National Association of Valuers of Serbia – NAVS are organizing traditional, annual 4th joint RICS-NAVS conference on the 18th October 2022 at ENVOY conference center.
Event will be organized in hybrid format meaning that you can choose between participating in conference in person, live at Envoy conference center in Belgrade, street Gospodar Jevremova 47 or participating via ONLINE platform from your comfortable home or office.
Discussion during four panels at 4th RICS-NAVS conference will cover topics about current factors in the real estate market that have an impact on the value of real:
Is carbon neutral real estate portfolio achievable for investors in Western Balkans by 2030?
How will "people centric" asset management add value to the buildings?
Trends to watch after COVID rapid increase in prices
From constructor's point of view: Which issues challenge successful completion of the RE project?
Find Agenda and Speakers bios at conference website: https://rics-nups.onlineedu.rs/en/pocetna-english/
You can register to participate LIVE in ENVOY conference center* (Gospodar Jevremova 47, Belgrade) or ONLINE via video platform.
*the number of participants in Envoy conference center is limited
Simultaneous translation is provided.
Participants will get certificates of attendance for 7 CPD education.
Fee with discount for RICS and NAVS members is:
160 eur + VAT for LIVE attendance at ENVOY conference center*
120 eur + VAT for ONLINE attendance via video platform
Regular fee for the conference is:
200 eur + VAT for LIVE attendance at ENVOY conference center*
160 eur + VAT for ONLINE attendance via video platform
Register to conference by sending e-mail with information about participant and payer to office@procenitelji.org.rs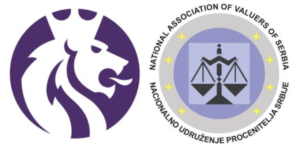 https://procenitelji.org.rs/wp-content/uploads/2018/09/nups-logo2_en.png
0
0
Maja Borković
https://procenitelji.org.rs/wp-content/uploads/2018/09/nups-logo2_en.png
Maja Borković
2022-10-05 17:00:34
2022-10-05 17:00:34
4th RICS-NAVS conference 18th October 2022