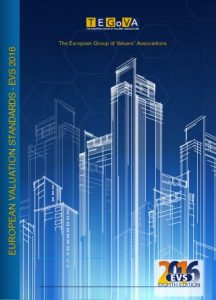 TEGoVA launches European Valuation Standards 2016, a cornerstone for the safety and security of European property markets and mortgage lending
Krzysztof Grzesik, Chairman of TEGoVA and John Hockey, Chairman of the European Valuation Standards Board, said "The Mortgage Credit Directive cites EVS as reliable standards to be used by mortgage banks. In its Asset Quality Review, the European Central Bank has given primacy to EVS over all other standards for the valuation of banks' real estate collateral. EVS 2016 deepens our European commitment, refining valuer guidance in areas of systemic risk."
Roger Messenger, Chairman of the European Valuation Qualifications Board, said  "This new edition is a major event for the thousands of Recognised European Valuers and TEGoVA Residential Valuers who, in order to gain and retain their titles, must master EVS to be able to contribute to the safety and security of European property markets and mortgage lending."
Danijela Ilic, President of the National Association of Valuers of Serbia – NAVS, said: "In Serbia there are 42 Recognized European Valuers who master EVS and thus contribute to the stability of the financial system in Serbia, the security of the domestic real estate market  and security of mortgage loans."

            Brussels, 13 May 2016
For further information contact:
TMA Secretariat NAVS/NUPS on +381 11 2422 961
TEGoVA Secretariat, on +32 2 503 32 34
+32 478 22 54 53
European Valuation Standards 2016 at:
http://www.tegova.org/en/p4912ae3909e49
National Association of Valuers of Serbia NAVS (NUPS) is an independent  association of  valuers in Serbia, founded near the end of 2006 in Belgrade, as a non-governmental and not for profit organization. NAVS's main goal is to act towards the public interest and to promote significance of the valuation profession, to organize education for valuers and to organize continuous educational activities for its members, to publish the latest editions of internationally recognized standards (EVS and IVS)  in the Serbian language.
Today, NAVS has  152 members, 84 % property valuers, 11 % business valuers and 5 % machine and equipment valuers.
NAVS has achieved AMA (Awarding member Association) status in TEGoVA in 2012 and thus achieved the possibility to issue TEGoVA REV professional designation to its members, as a confirmation of the quality in valuation of real estate.
The European Group of Valuers' Associations (TEGoVA) is the European organisation of national valuers' associations, covering 61 professional bodies from 32 countries with 70,000 valuers comprising specialist consultancies, major private sector companies and government departments both local and national. Its main objectives are the creation and spreading of harmonised standards for valuation practice, for education and qualification as well as for corporate governance and for ethics for valuers. It speaks with a common voice on valuation to European legislators and policy makers.
https://procenitelji.org.rs/wp-content/uploads/2018/09/nups-logo2_en.png
0
0
Boris Begenisic
https://procenitelji.org.rs/wp-content/uploads/2018/09/nups-logo2_en.png
Boris Begenisic
2016-05-17 02:55:27
2016-06-04 10:02:12
New EVS 2016